A Road Trip to
Remember in

Silver Valley
A family discovers how their favorite
winter destination holds up in the summer
By Erin Holt
Photo by Nathan Dugan Photography
A cool breeze wafted through the cabin of our truck as I rolled the window down. My husband, Matthew, was driving down a tree-lined road that runs alongside the Coeur d'Alene River. We were heading to Country Lane River Resort, our first stop on a four-night family road trip in Idaho's Silver Valley. The Silver Valley is made up of seven small communities, with a rich history of mining. It's also our family's favorite hidden gem for outdoor adventure.
Fishing for fun
Photo by Nathan Dugan Photography
I hopped out of the truck at our campsite, eager to stretch my legs. The drive from Seattle was only five hours, but, aside from a few rest stops along the way and a quick lunch in Spokane, we'd been sitting the whole time. Dylan and Matthew immediately unpacked their fishing gear and headed to the river to check out the rainbow trout, while Sam and I explored the area. From the old covered bridge that spans the flowing river, we could see Matthew and Dylan flicking their fly rods back and forth, the lines dancing along the water.
Outdoor enthusiasts, our family had ventured to Silver Valley several times over the years for skiing and fat tire biking. There are two resorts within half an hour of each other, and we never tire of our favorite runs. We'd always meant to check out one of our favorite road trip destinations in the summer, and now that Dylan was about to start his freshman year of college, we thought it was the perfect time to squeeze in one last family trip to Silver Valley. We looked forward to seeing some of our favorite snow-covered passes lush with vibrant warm-weather foliage.
After an afternoon of fishing, Matthew taught Sam how to properly build a roaring campfire, which we gathered around to roast marshmallows and tell stories. As the flames crackled and spit, we reminisced over past winters in the valley, spent skiing and snowshoeing rather than fishing and camping.
"Mom," Dylan said, tugging a gooey marshmallow off his skewer with sticky fingers, "Remember that time we went tubing at Silver Mountain in February?"
Matthew let out a howl of laughter at the memory. "You were so cold, your eyebrows had little icicles hanging from them," he chimed in. It was easy to forget the chill of the Idaho winter as we lounged on a summer evening, warmed by the radiant heat of the fire.
Mining for memories
Photo courtesy of Idaho Tourism
On our second day, we packed up our campsite. We vowed to try another campground on this visit, since our winter trips were always spent in heated cabins and resort lodges. On the way to our next site, we stopped for a hearty breakfast at The Snake Pit, the oldest restaurant in Idaho and Silver Valley's haven for hungry cyclists and river bums. Our family fit in perfectly. After omelets and hotcakes, we set up at the By The Way Campground in Pinehurst, where several of our cyclist neighbors were getting ready to ride the Trail of the Coeur d'Alenes. We were saving a bike ride for later in the trip, and instead planned to spend the day exploring Silver Valley's old mines.
It's no surprise, given the name, that the region is known for its historic silver mines, along with copper, zinc, lead and even gold. Sam is an aspiring geologist—he spent the drive from Seattle telling us all about Star Garnets, a rare gem that can only be found in India and Idaho Panhandle National Forests—so he was thrilled when our tour guide at Crystal Gold Mine announced that we got to try our hand at gold panning as we explored the 19th-century mine. The guide showed us the original quartz vein that miners found in 1881, and explained that gold is usually found near quartz. Later, we toured the Sierra Silver Mine, and Sam watched with rapt attention as our tour guide, a retired miner, demonstrated the actual equipment used to extract silver from bedrock.
After spending so much time underground, we decided to end the day with a sunset walk along the Trail of the Coeur d'Alenes. The paved trail spans 72 miles through The Silver Valley, but we picked a stretch of a couple miles that snakes along Kingston Ridge. We watched the sun sink behind the rim's dark topography, topped with shadowy green trees that stood in stark contrast to the deeply saturated orange and pink sky.
Swimming the slopes
Photo by Nathan Dugan Photography
On our third day in the valley, we moved to the FairBridge Inn & Suites in Kellogg. Kellogg is our favorite little hidden ski town, and we'd always wanted to check it out in the summer. We took in the epic views along the longest single stage gondola ride in North America from Kellogg to the Silver Mountain Summit, something I'd always wanted to do in the summer. Dylan and Sam had been dying to go swimming, so after the gondola ride we got our beachwear on and headed to the Silver Rapids Waterpark at Silver Mountain Resort. The waterpark is for resort guests, but they do offer a limited number of outside admission tickets everyday. We were lucky to book some online before we ventured over. It was fun to watch the boys splash and play where we'd navigated snowdrifts on past trips. The park even has a wave that you can surf! They were just as competitive in the water as they were on the slopes, seeing who could stand the longest on his board, exploring obstacle courses, riding rafts and shooting down tube slides.
It was fun to watch the boys splash and play where we'd nagivated snowdrifts on past trips.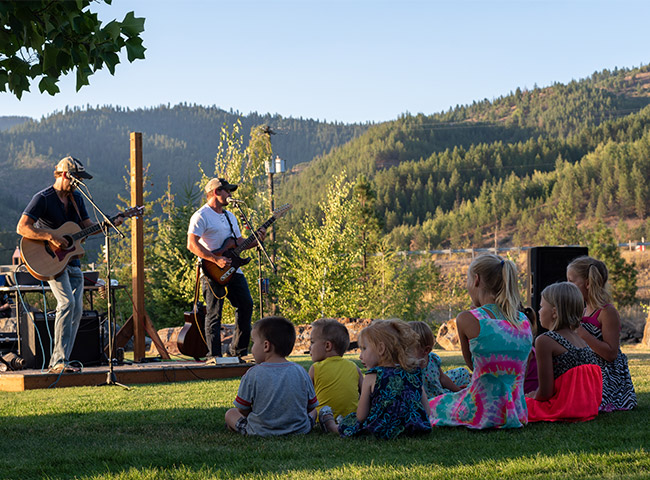 Photo by Nathan Dugan Photography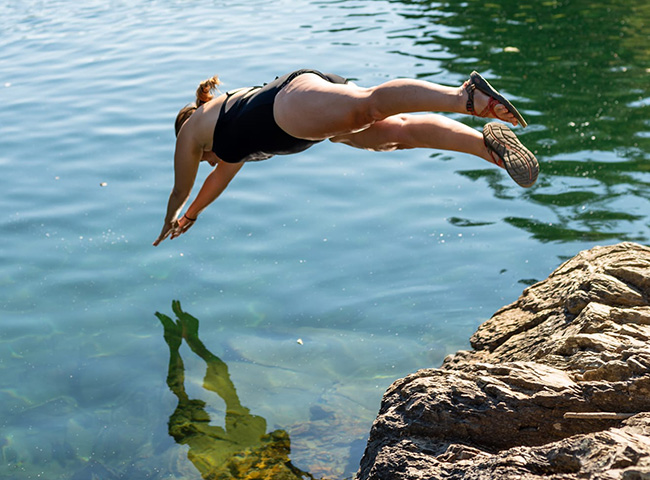 Photo by Nathan Dugan Photography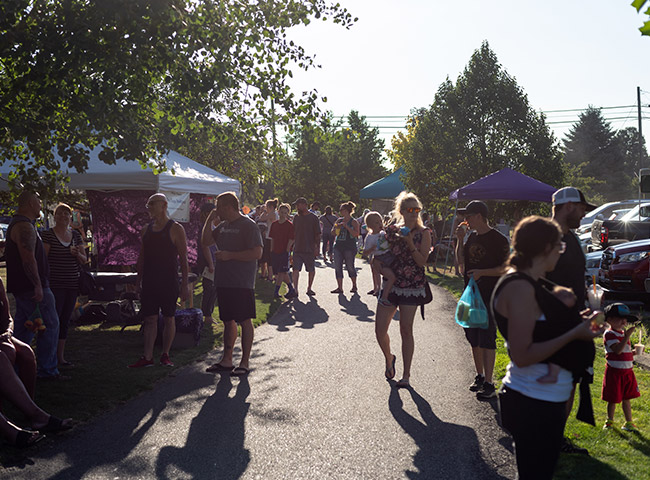 Photo by Nathan Dugan Photography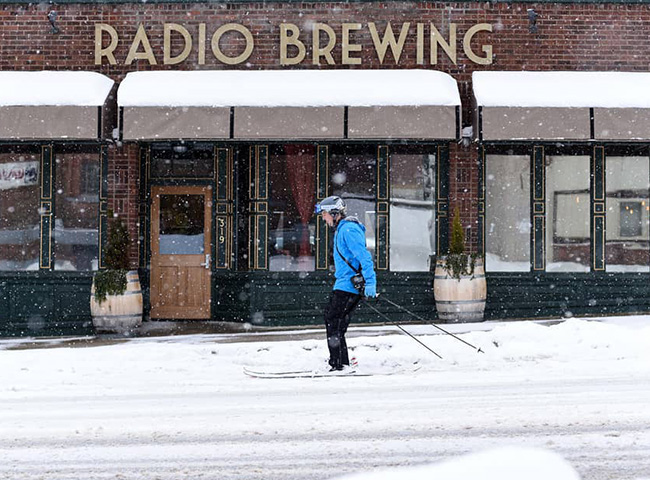 Photo by Nathan Dugan Photography
Our first stop after the waterpark was the Silver Valley Community Market, where we caught some live music, chatted with local growers and stocked up on picnic supplies for the next day. Then we grabbed dinner at Hill Street Depot, a casual and cozy local spot. The boys filled up on tacos and Matthew and I split a couple of sandwiches while we all enjoyed magic hour on the patio. Worn out from the day, the boys wanted to watch a movie back at the hotel. While they did, we walked to the nearby Radio Brewing Company. Their brews easily rivaled our favorite local craft beers in Seattle, and the taproom had a vintage vibe. Glowing beer bottle pendant lights hung over the bar, which featured retro microphone taps and transistor tube radios. It was just the right way to wind down together after an exciting day.
Familiar and new
Photo by Nathan Dugan Photography
On our last morning we journeyed to Lookout Pass, which sits right on the border between Idaho and Montana. We'd brought our mountain bikes along for the trip, and we unloaded them at the start of the Route of the Hiawatha Bike Trail, a 15-mile path that curves along the Bitterroot Mountains, passing over gravity-defying trestles and through long train tunnels. It's a route that had always piqued my interest when we'd skied at Lookout Pass, and I couldn't wait for the thrill of the downhill ride.
Several miles into the ride, we crossed a trestle that felt like it was a mile over the valley floor below. Rounding the next bend, Matthew and I hung back as Dylan and Sam raced each other to the next mile marker. I looked at our surroundings—lush green trees covering rolling hills, with clear blue skies overhead—and marveled at how this was the same region that had been blanketed in snow on our prior visits. It seemed new, and yet it felt familiar. We stopped at several of the historical stops along the trail, and learned about the history of the Silver Valley, mining, the railroad, and the Great Fire of 1910. It was the perfect ride for our family, as we love both history and the outdoors. The best part was, at the end of our ride, we were able to catch a shuttle back up to the top. No grueling climb for us, though the boys insisted they could handle it.
With Dylan about to start college, the seasonal changes of the landscapes around us mirrored the changes we faced as a family. The Silver Valley had seen us grow over the years, and I knew that even as our family underwent change it would always be a place that brought us back together.